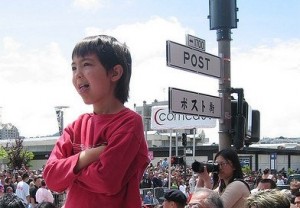 San Franciscans know that their city is hip, eclectic, eccentric, open, delicious, avant-garde, multi-cultural, and maybe a little foggy! But San Francisco is also rich with bilingual and multi-lingual speakers, from Spanish to Chinese, Tagalog to Vietnamese and Punjabi, including significant hubs of Persian, Arabic, Portuguese and French speakers – the majority of whom also speak English. So don't let yourself get left behind these impressive polyglots, here are the top three reasons to start learning a foreign language today!
1. Bilingualism enhances your resume, your career… and your pay
It is us multi-lingual speakers nabbing those high-paying positions at this tech start-up, that international law-firm, those high-tipping restaurants, even when that language skill isn't listed as a requirement on the job posting! Of course, in my case, speaking two or three languages is crucial to doing my job well: I work at a language school in San Francisco where our international students learn English (ESL) and our local students learn foreign languages like Spanish, Mandarin, French or Italian. Connecting with staff and students in their native tongue, if only a greeting, helps to break down barriers and allows us to connect on a deeper level.
As an employer, I am impressed not only by the number of candidates who speak a second language, but by the quality of those same bilingual candidates! According to a poll of 12,562 visitors to the Korn/Ferry International Web site, 64% of executives speak two or more languages. Here's the complete break-down: 31% speak two languages; 20% speak three languages, 9% speak four languages and 4% speak more than four. On top of that, speaking a foreign language pays! On average, bilingual pay differentials range between 5 and 20 percent per hour more than the position's base rate, according to Salary.com.
2. Learning a second language helps develop a new perspective
Language is culture, so learning and speaking French or Spanish or any language other than our native tongue gives us insight into different cultures. Researcher Dr Puncky Heppner who received his PhD in Psychology from the University of Nebraska-Lincoln, explains that we all live in cultures with different norms. He says, "Culture affects human behavior. The more we learn about other cultures, the better teachers, mentors, scholars and therapists we can be. Ultimately, understanding different cultures makes us better people."
One of the surest paths to culture is through language. To speak another language is to speak its rituals and traditions, to adopt its physical cues. How gratifying is it for us to travel and use the culture's greetings, to imitate the goodbye customs, to adopt the before-meal ceremonies?! Language teaches us about others
perspective on life
their relationship to work, to food, to sports
their approach to anger, to humor, to stress, to love.
When we tap into this, we can start to question, or appreciate, or realign our own perspective while developing a greater understanding of others and ourselves.
3. Learning a new language gives the brain a workout and makes it grow
In 2012, researchers at Lund University compared 2 groups of students: learners of a new foreign language and students of medicine and sciences. Both groups were given MRI scans before and after a three-month period of intensive study. While the brain structure of the group studying medicine and sciences remained unchanged, specific parts of the brain of the language students grew, according to the researchers. The parts that grew were the hippocampus, a deep-lying brain structure that helps us acquire knowledge and navigate our 3-D world, and three areas in the cerebral cortex. What does that growth mean?
It turns out that as our brain analyzes and resolves conflicts between languages, our cognitive skills are strengthened, which helps us perform better on mentally demanding tasks. Because of the constant cognitive workout, we could be more capable of resolving complex problems or deciphering confusing information.
With so many benefits, we know that you must be chomping at the bit to start your language learning adventure today!
If you are living in San Francisco, come visit us in the Embarcadero Center in San Francisco's Financial District for more information on language classes and get a free language consultation to help you get started in the right direction!
Photo credit : Dannyman via Photopin
Comments
comments