We're getting closer to opening ILSC-Adelaide and welcoming students to our newest Australian location starting Dec 2, 2019.  If you're thinking about joining us at ILSC-Adelaide, no doubt you're wondering what will life cost while you're there?  As one of Australia's most affordable major cities, Adelaide is especially friendly to student budgets, offering plenty of inexpensive things to do, and see.  In fact, a lot of Adelaide's top tourist attractions are completely free!  If you're planning your Adelaide to-do list, we wanted to share our top FREE things to do in Adelaide, all of which you'll be able to enjoy when you come to study with us!
Free Transportation: The Adelaide Metro features a few completely free services that are perfect for your after class or weekend adventures around the city's main sights and attractions. Hop on and off the free city connector which loops around the Central Business District (CBD) and North Adelaide, or take the tram to Glenelg beach and Jetty road!  If you're lucky enough to live close to the school, you can keep your transportation costs to a minimum by using these free routes.  If you live outside of these central areas, a monthly metro pass costs around $100 per month.
Free Bikes & Fantastic Bike Routes. Adelaide has an awesome free bike hire system with pickup locations around the city. The Bicycle SA's flexible system has no minimum daily time limit as long as you return the bike to the same location before it closes for the day.  On top of that, there are lots of great bike paths to help you go exploring on two wheels.  Check out the Cycle Instead Journey Planner to plan your best bicycle route, or pick up a free bike from near one of the city's beaches and ride along the Coast Park Path that runs along the seaside.
Botanic Gardens of South Australia Adelaide's Botanic Gardens actually includes 3 separate gardens and a park, all free to enjoy! The Adelaide Botanic Garden is close to the CBD along the North Terrace and sits right next to the Botanic Park which is a popular location for special events in the city. Mount Lofty Botanic Garden is nearby in the Adelaide hills, and Wittunga Botanic Garden is in the southern part of the city.  All three are easy to reach by public transit.  If gardening and ecological conservation excite you, all three gardens also offer volunteer opportunities.  Volunteering in the gardens is a great way to get out into nature, add something to your resume, and connect with locals. Some volunteer activities even include free lunch!
Adelaide Central Market Established in 1869 the charming Central Market has been operating for more than 150 years! Over 70 vendors sell all kinds of fresh, organic, international and specialty foods. The Central Market has no cost to enter, but of course, if you fill your grocery bags with lots of delicious delights, it will cost something. Don't worry, pricing is competitive and this can be a great place to do your weekend grocery shopping. On top of that, the market holds seasonal events focused on different food regions, often with free entertainment.
Art Gallery of South Australia. The popular Art Gallery of South Australia features more than 45,000 works of art covering a wide range of subjects. The Gallery includes Australian Aboriginal art, local contemporary art, and European, and Asian collections.  Explore the gallery on your own, or join a free tour to practice your English listening skills. General admission to the Art Gallery is always free.
South Australia Museum The South Australia Museum is a great place to go if you want to learn more about Australia's unique history and culture, as well as its unusual natural resources, flora, and fauna – many of which only exist here on this long-isolated island nation. This also happens to be a great place to see aboriginal artifacts from the various indigenous groups that have inhabited Australia for more than 50,000 years. And entry to the South Australia Museum is completely free.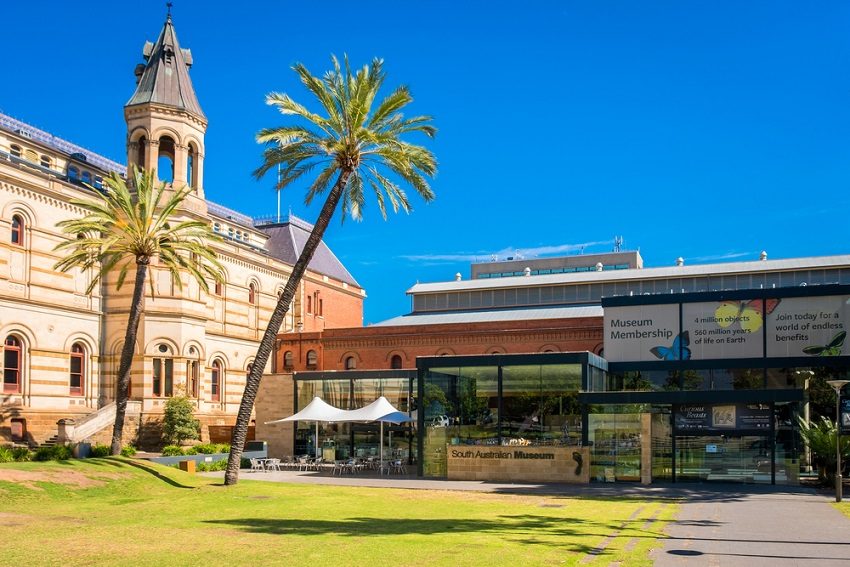 Port Adelaide Street Art. Adelaide's "Wonderwalls" festival has been bringing local and international street artists to Port Adelaide since 2015, turning 50 blank walls into creative art canvases. If you're lucky enough to be in the city during the next Wonderwalls, Port Adelaide event you'll get to enjoy a few days of street art, music, and fun; but any time of year, you can take a stroll through Port Adelaide and check out the amazing street art that's already there. Create your own tour, and get ready to be inspired!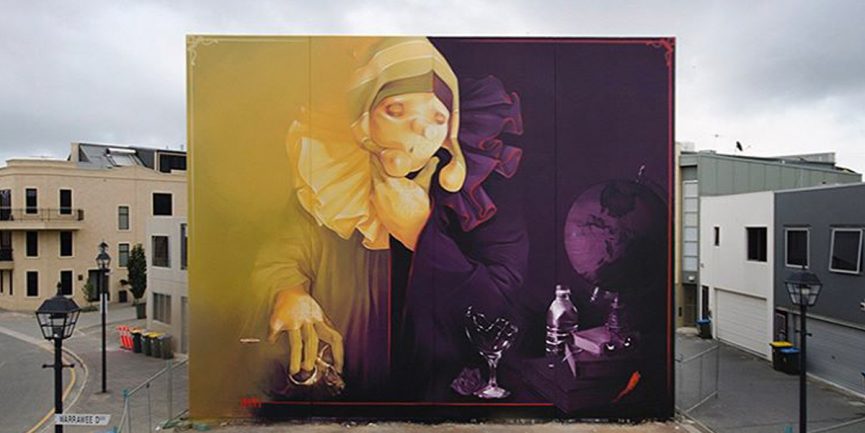 Adelaide Dolphin Sanctuary Who doesn't love dolphins? South Australia is home to three different dolphin species, and if you visit the free Adelaide Dolphin Sanctuary, you're guaranteed to see some of these popular and lovable ocean mammals. The sanctuary is home to around 40 Indo-Pacific Bottlenose Dolphins, as well as many other interesting marine animals. Come and enjoy the spectacle, and take time to learn more about dolphin behaviour, and the impact that humans are having on their habitats and lives.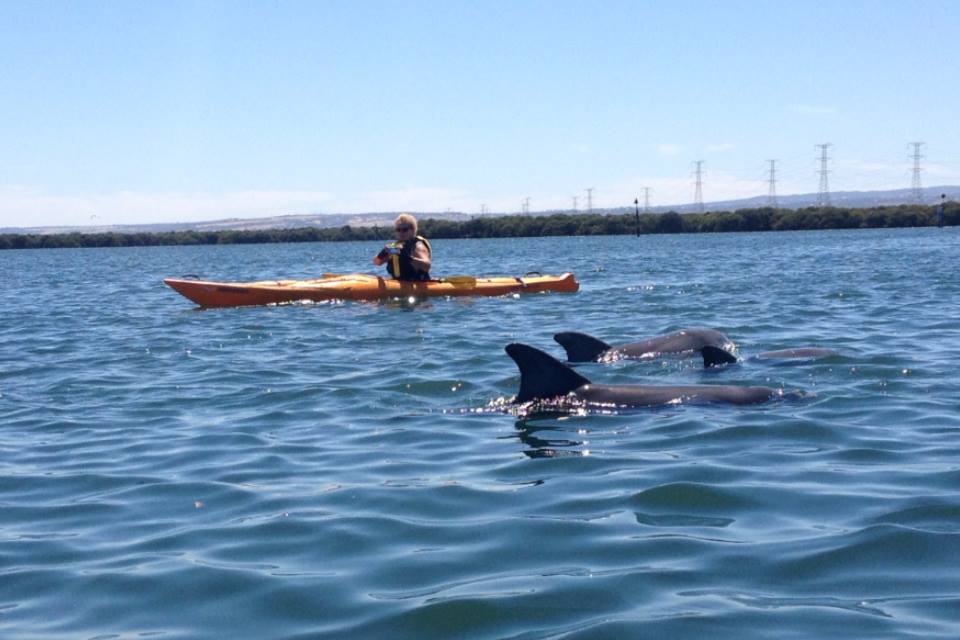 Beaches, beaches, beaches! Hey, we told you about this one before, but it's worth mentioning again.  One of your best low/no-cost entertainment options in Adelaide is to relax on one of the amazing beaches that line the city's 30km of coastline, and there are enough of them that you'll have plenty of options to choose from!  Explore our top Adelaide beach recommendations, and don't forget to bring your sunscreen and a bathing suit!
That sums up our list of top free things to do in Adelaide.  You can also get some general tips about living costs in Adelaide through this helpful video from a student at the University of Adelaide. While not all discounts apply to our ILSC students (unfortunately you can't get the transit pass discount or the cheap university gym membership), there are lots of helpful tips that will give you a good idea of what Adelaide student life will cost you, and how you can stretch your Australian dollar.
Do you want to come join us on some free Adelaide adventures? We're excited to welcome you to our newest campus in Adelaide.  Learn more about the school, and follow us on Instagram to stay up to date on all things ILSC-Adelaide.
ILSC-Adelaide is available to eligible Working Holiday Visa and Visitor Visa holders only.
Comments
comments