We're getting very excited to start welcoming students to our newest ILSC location in Adelaide Australia, starting this December 2, 2019!  There are so many great features that make Adelaide a fantastic place to live, work, learn, and play!  One big highlight of Adelaide, South Australia, is that the city is full of great festivals, year-round; so many, in fact, that it's known as the "Festival City!"
Adelaide's busy arts and culture scene pump over $100 million into the local economy every year; so, your work opportunities in the city get a boost from the many international tourists, Australian tourists, and locals who come out to be part of the festival excitement.
Adelaide's annual festivals offer something for every taste.  Here's a snapshot of some of Adelaide's top festivals!
Crush Festival:  January
If you like wine, then anytime is a good time to visit the wineries in the Adelaide hills; but the best time to get a taste of your favourite whites, reds, rosés, and sparkling wines is undoubtedly during the annual CRUSH festival.  The CRUSH festival features all kinds of delicious wine varieties; and great food, music, art, and fashion add extra flavour to this relaxed festival vibe.
FOMO Festival: January
Ok, so technically, the FOMO festival takes place at all of our Australian study cities in January; whether you're in Sydney, Melbourne, Brisbane, or Adelaide, there's no excuse for missing out!  If you're a hip hop or electronica fan, this is your festival. Adelaide's FOMO festival takes place at Adelaide's Elder Park, and this one stage, one-day event features a fantastic lineup that will keep you dancing to top hip-hop and electronic tracks from morning 'til night!
Laneway Festival: February
Enjoy great local and international music in a truly unique setting.  The St Jerome's Laneway Festival features emerging musical artists, food, drinks, galleries, and markets, set in Port Adelaide's trendy laneways, which also happen to be filled with fantastic street art and great cafés.  The laneway festival also takes place around our other amazing Australia study destinations!
Fringe Festival: February to March
The Fringe Festival is an amazing international theatre & performance event, and Adelaide's Fringe certainly doesn't disappoint! With a full month to take in shows, you can experiment with something completely new, or wait to read the reviews to find a top show that fits your taste – whether it's comedy, tragedy, drama, circus arts, or something else.  The Fringe is known for its risk-taking performances, usually with amazing results!  Most importantly, it's affordable and offers students a potential volunteer experience that will connect you with Adelaide's arts and culture scene.
WOMADelaide Festival: March
One of Adelaide's most popular festivals, WOMADelaide features musicians, DJs, and performers from around the world, set against the stunning backdrop of Adelaide's lush and beautiful Botanic Park. The festival runs for 4 days over a weekend, and attracts an audience as diverse as its musical offerings, along with great food, and vendors.
Adelaide Festival: March
This two-week festival combines all types of arts and culture, offering a wide array of events, including musical performances, dynamic dance pieces, writers, and visual art. The Adelaide Festival is one of Australia's top creative cultural events, with over 57 years of history!
Adelaide Beer and BBQ Festival: July
Get a taste of local micro-brewed beer and cider at the Adelaide Beer and BBQ Festival.  This delicious festival combines great music with different music themes each day of the three-day fest. And what could be more Australian than Beer and BBQ?
SALA Festival: August
The SALA Festival (South Australian Living Artists) is a community arts festival at its best. The event helps local artists feature their works throughout the city, in cafés, galleries, offices, and more.  The festival features photography, sculpture, painting, mixed media, and moving images, and the best thing it is this public event is free. Art is really for everyone at the SALA festival.
Guitar Festival: August, biannually
The Guitar festival celebrates the most popular instrument in the world, and no surprise features plenty of guitar performances at bars around Adelaide. But this event, which happens every two years, isn't just for listening; if you play the guitar yourself, there are competitions, workshops, classes, and talks.  There's even a community support element to the festival as guitarists play in local hospitals, community centres, and aged care homes to share the healing power of music.
Adelaide Fashion Festival: October
If you're all about style, this is the Adelaide Festival you just can't miss.  Check out the creative talents of fashion designers, hair, and makeup stylists. The Adelaide fashion festival features new and established designers, and also offers local music, food, and drinks.
OzAsia Festival – November
Get a taste of Asia in Australia with this annual festival that showcases Asian theatre, dance, music, food, film, and visual art.  The OzAsia festival runs for almost three weeks and offers plenty to delight your senses and your curiosity. It's also a great way to discover a key element of Australia's diversity, get a taste of home, or help new international friends discover something from your own culture.
Adelaide Christmas Pageant – November
Check out the largest single-day parade in the southern hemisphere, and the second largest in the world!  Adelaide's National Pharmacies Christmas Pageant attracts over 300,000 attendees and showcases more than 60 floats, plenty of bands, clowns, performers, unique costumes, and dancing groups, all sharing their Christmas creativity.  What a way to round out the year in Adelaide!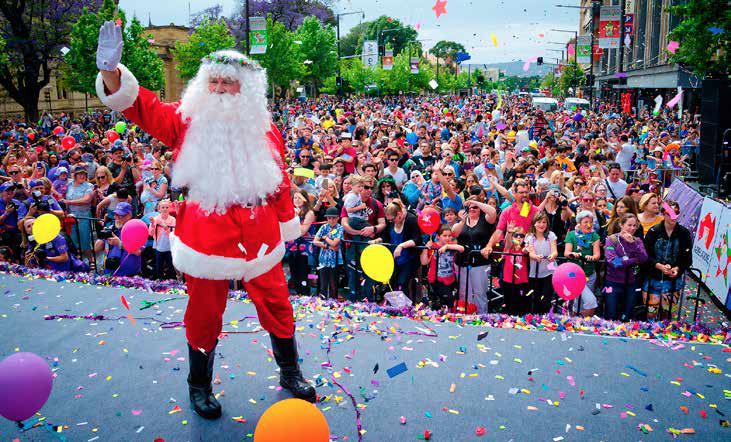 Now you know about some of Adelaide's top festivals, but this list is just to get you started!  There are plenty of more festivals and events happening in Adelaide all the time. Which one will be your favourite?  You'll have to come to study here to find out!
So, what are you waiting for? Learn more about ILSC-Adelaide, and come study with us.  We can't wait to see you at our new campus, or at one of Adelaide's top festivals!
Available to Eligible Working Holiday Visa and Visitor Visa holder only.
Comments
comments