Established in 1913, Olds College of Agriculture and Technology has offered quality hands-on education for over a century. Our beautiful campus is located in the heart of Central Alberta, a scenic small town surrounded by open prairies with beautiful views of the Rocky Mountains to the west. Canada's Smart Agriculture College offers programming in agriculture, horticulture, land and environment, brewery, hospitality and tourism, animal health, and more. Read on to learn more about the higher education opportunities that await you at Olds College as an ILSC University Pathway student!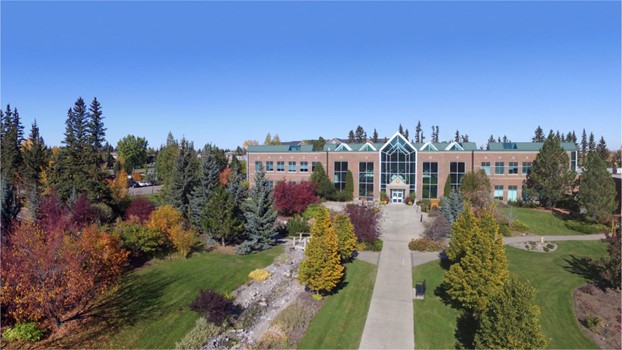 Why should international students choose Olds College?
Students have what it takes, and Olds College of Agriculture and Technology can take them there. We recognize that people have incredible potential as students and successful graduates. Our programs equip students with the knowledge and hands-on skills needed to enter a variety of careers in areas that they are passionate about. Our small class sizes allow students to connect with their instructors and classmates, creating an environment where it's easy to learn and ask questions.
Olds College is also a Designated Learning Institute. We offer programs that are eligible to be considered for the Post-Graduation Work Permit (PGWP) Program.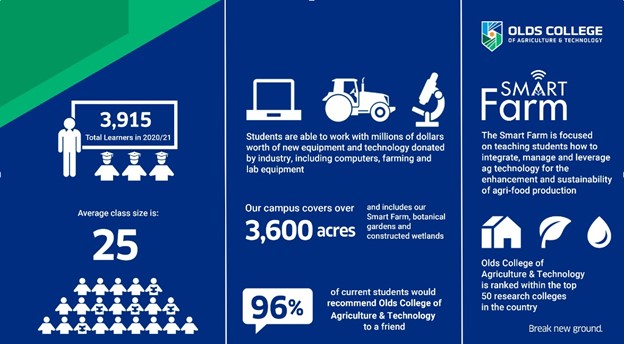 What Olds College programs are popular among international students? Why? 
Bachelor of Digital Agriculture Degree – With a focus on leadership and management, this four-year program explores solutions to real-world problems using digital agriculture technologies and practices that are centered on sustainability, including social, economic, and environmental impacts.
Agriculture Management Diploma – This two-year diploma program gives students a comprehensive education in all aspects of the agriculture industry through a mix of classroom time and hands-on experience on the Olds College farm.
Horticulture Technologist Diploma – Cultivate an exciting career in horticulture with the Horticulture Technologist diploma. This two-year program will provide students with a deep understanding of horticulture, including the production and management of plants, pests, landscapes, soils, and water systems to achieve productive and sustainable systems.
Business Management Diploma – Sports Management Major – This two-year program combines sports administration with business foundations to give students the skills to become leaders and planners in this ever-changing field. Aligning with the National Coaching Certification Program (NCCP) multi-sports modules, students will develop business management, marketing, and accounting skills to help them manage valuable resources, such as people, money, time, and materials, and reach organizational goals in the highly competitive sports industry.
Bachelor of Applied Science Degree – Agribusiness – This two-year program will give students an added advantage towards a rewarding career in the dynamic and global agriculture industry by equipping them with the necessary skills to solve real-world business challenges, such as critical thinking, problem-solving, and collaborative investigation.
What nationalities are represented at Olds College?
International students are an important part of the Olds College community. Our students come from over 27 countries, including Brazil, China, India, Mexico, Nigeria, Philippines, and Ukraine.
Any comments about the quality of ILSC University Pathway students at Olds College?
They're amazing! Students coming from ILSC Pathway programs tend to be very successful in their programs.
What kind of support do you offer to international students?
We pride ourselves in providing programs and support systems that help all our students succeed in their chosen paths.
We will walk students through all the student journey stages, helping them find the right program for them, how to apply, the admission process, and how to prepare for the first day of classes.
Once students arrive on campus, they will get to experience our student clubs, events and activities, game nights, fitness center, free immigration agent consultation, free tutoring, and more.
---
If you wish to study at Olds College but need to improve your English to meet the language entry requirements, check out our University Pathway Program in Canada. Our Pathway Program offers you conditional admission to our partner institutions and equips you with the English language skills you need to succeed in your higher education journey!
Comments
comments