Learn to Earn Begins This Week
ILSC-New Delhi's first ever educational sponsorship program, called Learn to Earn, kicked off this week with our 6 new students taking part in class.  These girls will be studying at the New Delhi campus for 4.5 hours per day, Monday to Friday, for 4 months.
Along with English communication classes, they will be participating in school activities with other students and opening new email accounts to communicate with other ILSC students around the world.  If you are interested in becoming pen pals with any of the students over here, please write to the director, Jason Flaming: jflaming@ilsc.ca
To see our video clips on the girls involved in the "Learn to Earn" program, click here.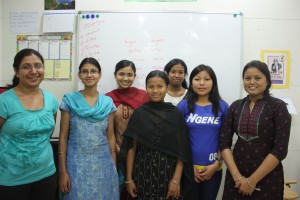 Rashmi (Teacher) Mallika, Deepika, Suman, Divya, Jessica, and Pooja Divya
Comments
comments