At ILSC, we know that your Australia study and travel dreams probably include some beaches – hanging out with new friends on the soft white sand, the golden sun shining down on you as you listen to the sound of azure blue waters lapping the shore.  Well, this dream can easily become a reality in Adelaide!
With over 30 km of coastline dotted with beaches, most of which are easy to access by public transport, Adelaide is the perfect city to enjoy endless beach days.  But which beach should you choose?  We share the highlights of some of Adelaide's top beaches so you know where to bring your beach towel during your study and learning journey at ILSC-Adelaide.
1. Glenelg Beach
Glenelg Beach is probably Adelaide's most popular one.  This stunning white sand beach sits at the end of Jetty Road, a top tourist spot that offers a full kilometer of cafes, restaurants, shops, and culture so you can combine your beach day with a bit of everything.  Glenelg beach itself combines a sandy seaside with grassy picnic areas, all facing the 215-metre-long jetty which offers a nice walk and views.  Glenelg is your ideal urban beach experience.
How to get there: Take the Tram or a single bus straight to the beach from the ILSC Campus! Total travel time: about 40 mins.
2. Brighton Beach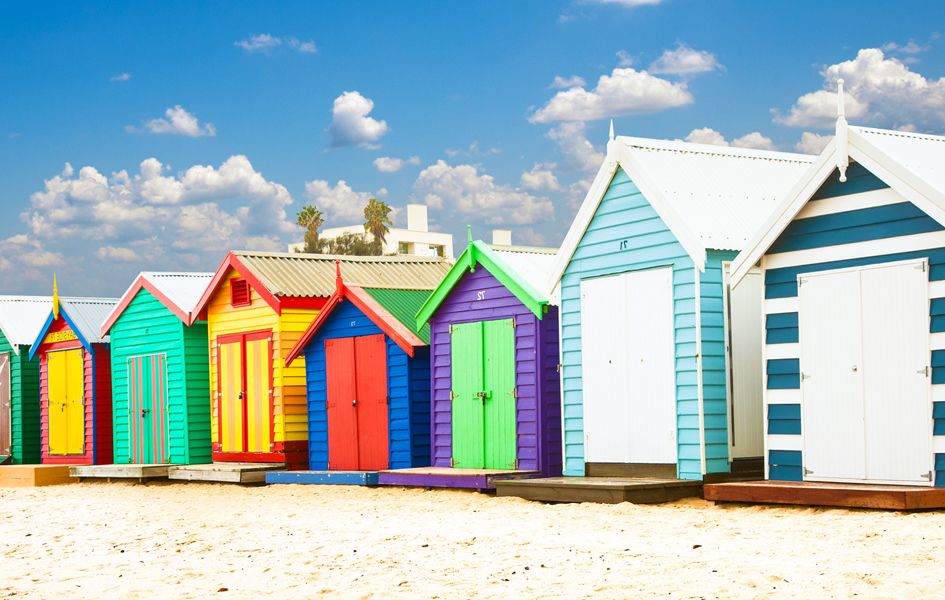 Brighton Beach is another easy to get to the beach, and like Glenelg, it has plenty of shops, restaurants, cafes, and fish and chips places to tempt your taste buds. The paved esplanade along the beach is great for cycling or walking, or you can stroll along the sand to other northern or southern beaches.  There's also a place to rent Stand-up Paddle Boards if you're looking to try out this relaxed sport. The Brighton Jetty is a popular fishing spot and offers plenty of shade if you want to cool off.
How to get there: Hop on the Train at Seaford station and get out in Brighton, you'll be just 6 minutes away from the beach! Or take a couple of busses from the school. Total travel time: about 45 mins.
3. Henley Beach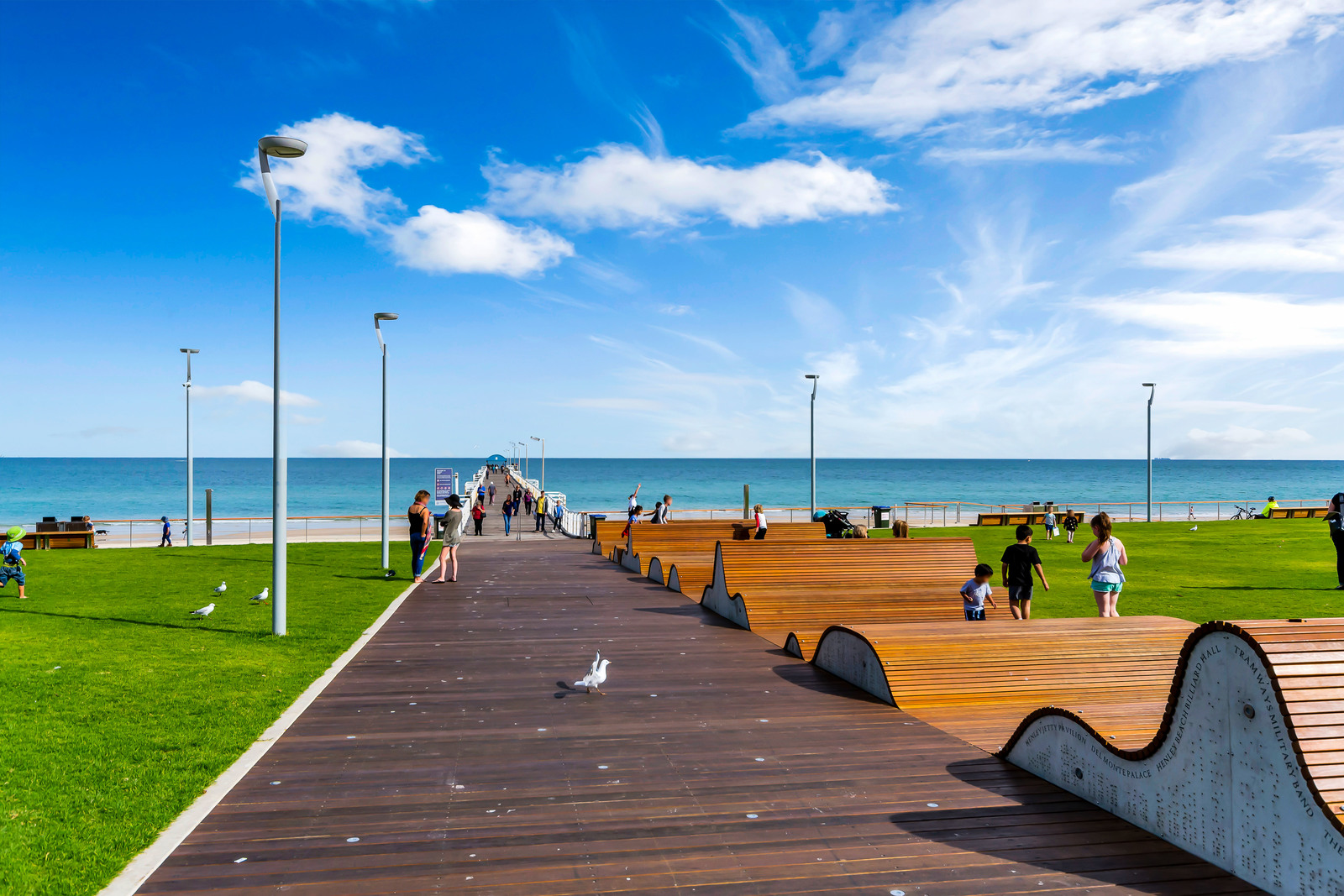 From the ILSC campus, Henley beach is your fastest, one-bus beach option, and it's one of the most popular beaches with locals. It's a little less busy than Glenelg and Brighton, so if you're looking for a more relaxed vibe that still offers shops and restaurants, this is your beach.  Jetty's are popular along the Adelaide coast, and guess what, Henley's got one too. Along with that, there are plenty of grassy picnic areas, benches to sit and take in a sunset, and lots of local spots to relax with a beer and enjoy some music. If you feel daring, this is also a great beach to try kiteboarding!
How to get there: One direct bus that departs just steps from ILSC. Total travel time:  35 minutes.
4. Semaphore Beach
This long and wide beach sits at the northern part of Adelaide's coastline against a backdrop of sand-dunes. Behind the sand, there's plenty of green space, and a world of fun delights on the Semaphore foreshore. Combine your beach time with playtime and take a turn on the carousel, water slides, Ferris-wheel, play some mini-golf, or ride the steam train! Not to be outdone by Adelaide's other beaches, Semphore also has plenty of great restaurants, pubs, and quaint shops just step from the beach along Semaphore road. Combine your day at Semaphore beach with a stop in the Adelaide Dolphin Sanctuary along Port Adelaide River.
How to get there: Take the Train to Outha, and walk about 20 mins or combine bus routes to get a little closer. Total travel time: 54-57 mins.
5. Port Noralunga
Port Noralunga is your all-day adventure beach.  It takes longer to get to from Adelaide, but it's worth the trip, and still accessible entirely by public transportation.  Port Noralunga's stunning red-sand beach cliffs, it's long jetty, and its nearby reefs will attract anyone looking to spot some local marine life and relax for the day.  Coordinate a diving tour to explore the reefs, which are part of a protected marine reserve.  You can also rent a kayak or a Stand Up Paddle Board to explore the area. Or just relax and swim by the shore.
How to get there: Take the Train from Seaford to Noarlunga Centre Interchange, and hop on the Maslin Beach bus to the seaside.  Total travel time: about 1.5 hrs.
Bonus! – Coast Park Path
Ok, this isn't really an Adelaide beach, but it's a great way to see them all!  Adelaide's Coast Park Path is built for riding or walking and extends along most of Adelaide's coastline.  While we've listed many of the top Adelaide City beaches, a cycle or walk along the Coast Park Path is a great way to spend a few hours or the entire day creating your own Adelaide beach tour. A trip along the Coast Park Path will help you discover your own favourite beach spot.  And with Adelaide's free bikes, this adventure doesn't even have to cost you anything; well, unless you get hungry and decide to make some delicious stops along the way!
How to get there: Check out where to hire Free bikes in Adelaide.  Henley, Semaphore, and West Beach all have locations nearby (Just remember, your free bike needs to be returned to the same location!).
These are just a few of Adelaide's top beaches, but there are plenty more along Adelaide's long urban coast, and even more options just north and south of the city! Before you go, download the BeachSafe app to stay up to date on the conditions of every one of Australia's beaches, and get ready to have fun!
Want to discover Adelaide's beaches? ILSC-Adelaide is opening December 2nd, and we'd love to help make your Australian beach dreams come true! Come join us to learn English, and have an amazing, life-changing experience!
Available to Eligible Working Holiday Visa and Visitor Visa holder only.
Comments
comments