Over the last few weeks, we've been sharing the many highlights of our newest, soon to open location, ILSC-Adelaide. We've given you a snap-shot of Adelaide's fantastic year-round festivals, its top beaches, and the free and fun things you can do around this amazing student city.  But if you're wondering what other kinds of magical Australian adventures you can enjoy during your weekend downtime, we've got you covered!  Adelaide is close to some truly unique and magical Australian destinations that will provide you with amazing experiences and unforgettable memories.  Here are some of our top suggestions for day, weekend, and multi-day trips outside Adelaide.
Kangaroo Island
Australia's third-largest island attracts thousands of visitors every year to enjoy the beaches, nature reserves, food, hikes, wineries, and more.  Kangaroo Island is large enough to have multiple cities, as well as accommodations and adventures for every type of traveler.  The most popular things to see include the well-named "Remarkable Rocks" which have been shaped by wind, waves, and rain over millions of years. The island also boasts a sea lion reserve, where you can discover this endangered species up close; and is a happy home for koalas, black swans, echidnas, goannas, pelicans, bottlenose dolphins, whales, and, you guessed it kangaroos! With its many natural reserves, you'll get a chance to see these animals in their natural habitats.  This is also the only place on earth where the endangered glossy black cockatoo lives.  On top of all the unique animals, Kangaroo island offers plenty of walking trails, camping spots, and beaches along the south shore that are perfect for swimming. There's no public transportation on the island, so it's ideal to go with a group or take an organized tour.
Distance from Adelaide: 3 hours and 15 minutes by shuttle bus and ferry, or 30 minutes by plane.
Adelaide Hills
The Adelaide Hills are your closest getaway outside the city, and include so many different things to do and see; you'll be able to pass multiple day trips here, or a weekend if you decide to camp overnight.  The hills are home to numerous townships, and many wineries thanks to their cooler temperatures. But if wine isn't your beverage of choice, you can also find craft breweries, cideries, and distilleries, many of which create their libations from locally grown fruit.  Speaking of fruit, you can also go fruit picking here for cherries, apples, strawberries, or figs, depending on the season.
If you want a little German flavor, make sure to check out Hahndorf or Lobethal, two German-settled towns that still keep up many German traditions – in December, be sure to visit the Hahndorf Christmas market and Lights of Lobethal Christmas festival.
For adventure seekers, there are also many beautiful trails to enjoy on foot, by bike, or even on horseback.  If you're looking for wildlife, check out Cleland Wildlife Park.  If you're passionate about the arts, there are a few sculpture walks and parks, in Macclesfield, and on the lakeside trail in Mount Lofty.  And all this is just the tip of the iceberg! Check out the Adelaide Hills guide for much, much more.
Distance from Adelaide: The Adelaide Hills townships are between 15-50 km from Adelaide.  A few of the highlights, including Cleland Wildlife Park, Hahndorf, Mount Lofty Summit, Blackwood foothills, and Belair National Park are accessible by Adelaide's public transport system.
Naracoorte Caves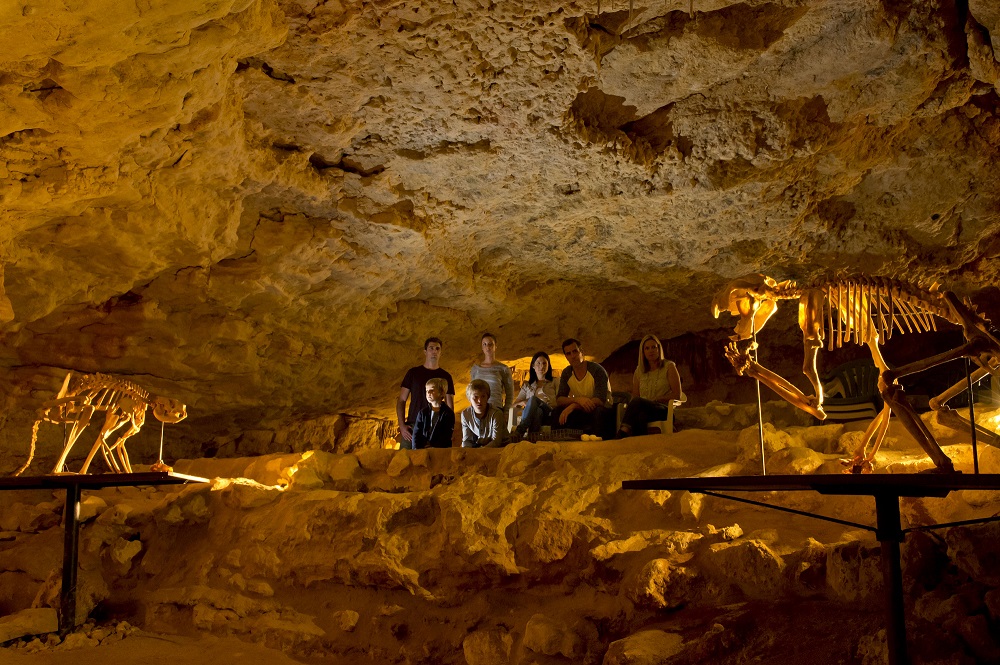 If you like caving, this is a truly unique set of caves to explore and discover.  The 28 Naracoorte caves are a world heritage site, and for good reason.  Along with stalactites, stalagmites, and the usual interesting rock formations you might expect to find in caves, the Naracoorte caves are completely full of fossils from animals that were trapped after falling through holes in the ground above, and from the predatory animals that once lived there. The caves are part of the Naracoorte Mountain Range and have been collecting bones for around 500,000 years, providing an expansive fossil record to help archeologists understand the history of early man and other extinct species that existed long before we all arrived.  Most of the caves are used for research; however, four are open to the public.  The Naracoorte Caves offers inexpensive camping, and visitors can do self-guided, guided, and adventure caving tours for very reasonable fees.  Get ready to learn, and explore!
Distance from Adelaide: 3.5 hours by car.
Mount Gambier
A colour changing lake? A sunken garden? Mount Gambier is a town built at the foot of an extinct volcano and offers a combination of amazing landscapes, excellent wineries, caves, local arts, and more.  It's blue lake, which is the source of the city's drinking water changes colour from a light blue in summer, to a dark steely blue in winter thanks to changes in the light, and how the mineral composition of the limestone lake interacts with algae and vegetation.  Stroll along the Crater Lakes walking trails to see the blue lake, lush gardens, the mountain's other crater lakes and lookout points.  In the evening, check out the possums that come out to feed in Umpherston Sinkhole, the sunken garden that started as a cave, until its roof caved in. You can also just enjoy life in the city, with its many limestone buildings, quaint shops, and tourist spots. For the cheapest and most unexpected accommodation, stay at the former gaol (jail) which is now a heritage site and guest house.
Distance from Adelaide: 5 hours by car
Barossa Valley
Barossa Valley is Australia's most famous wine region, and with over 150 wineries spread throughout 8 major towns and the surrounding rural areas, this is *the* place to visit if you're looking for a wine tasting adventure.  Most famous for its Shiraz, the wineries around the Barossa Valley also produce Grenache and Cabernet Sauvignon, along with whites like Riesling and Semillon. The valley, which is set along the North Para River, also offers a cornucopia of culinary delights to complement your wines, like locally made baked goods and cheeses, and delicious dishes created from farm-grown and raised meats, vegetables, and fruits. Discover the valley through an organized wine tour, or create your adventure and tour the region by bicycle. If you want a birds-eye view of the valley, take a tour in a hot-air-balloon and gently drift above this peaceful, lush, and stunning wine-growing region. The areas major towns also offer charming shops, sculptures, and art.  Barossa Valley is the perfect place to be when you're looking to relax!
Distance from Adelaide: 1 hour by car
Victor Harbor & Granite Island
Victor Harbor is a popular South Australian getaway with beautiful clear blue waters and white sandy beaches; the delightful Granite Island; a coastal steam train; and the chance to see whales during the winter.  This magical seaside city has everything you need for a weekend adventure, and it's just a short drive from Adelaide.
The reefs between nearby Wright Island, West Island, and The Bluff offer excellent snorkeling and diving opportunities.  If you're a wildlife lover, keep an eye out for humpback whales and right whales who come to this area to mate and calve from May to October; and year-round, you can spot dolphins, sea lions, and furry seals off Victor Harbor's shores.
Nearby Granite Island is a must-see!  Walk there on the wooden causeway from Victor Harbor, or take the horse-drawn tram! On Granite island, check out the penguin centre to see the smallest penguins in the world, and then walk around the island's sculpture trail, which features 10 artists' works integrated into the natural landscape.  This city is also full of unique transportation options; ride a camel along the beach, or take the steam train along the coast to Port Elliot or further on to Goolwa. You can then cycle, walk, or rollerblade back the 20km route to Victor Harbor along the well-maintained Encounter Bikeway. If you still have time once you've done all that, stop in at Urimbirra Wildlife Park to get a glimpse of some of Australia's unique creatures.
Distance from Adelaide: 1.5 hours by car
These are just a few of the amazing Adelaide adventures just waiting for you to discover! If you decide to join us on December 2nd, or beyond, our team will be here to help make even more activity suggestions to help you get the most of your experience in and around Adelaide, South Australia.
Are you ready for a life-changing living and learning experience?  Learn more about our newest campus, and register today!
All programs are part of the English Language Programs for International Students CRICOS Code: 060152J. ILSC (Brisbane) PTY LTD is trading as ILSC-Brisbane, ILSC-Sydney, ILSC-Melbourne, ILSC-Adelaide, ILSC Australia RTO Number 31564, CRICOS Code: 02137M.
Comments
comments